---
Technical Specifications
Model:
Dura-Bilt5i-4160V-10000HP
Brand:
TMEIC
Product Condition:
New
Horsepower Rating:
10000 HP
HP Rating @ 110% OL:
10000 HP
Rated Amps:
1240 A
Amp Rating @ 110% OL:
1240 A
Rated Voltage:
4160 V
Output Voltage:
4160 V
Output Amperage Rating:
1240 A
Phase Rating:
3 Phase Input - 3 Phase Output
Phase:
Three Phase
Enclosure Rating:
UL Type 1
Series:
Dura-Bilt5i MV
Height:
104.00 in
Width:
403.00 in
Depth:
60.00 in
Product Information
TMEIC Dura-Bilt5i MV Series
The Dura-Bilt5i MV series of medium voltage ac drives provides straightforward operation in a rugged and compact design, offering an effective cost-saving option for a wide range of applications.
The Dura-Bilt5i MV delivers value through low cost of ownership and high reliability.
---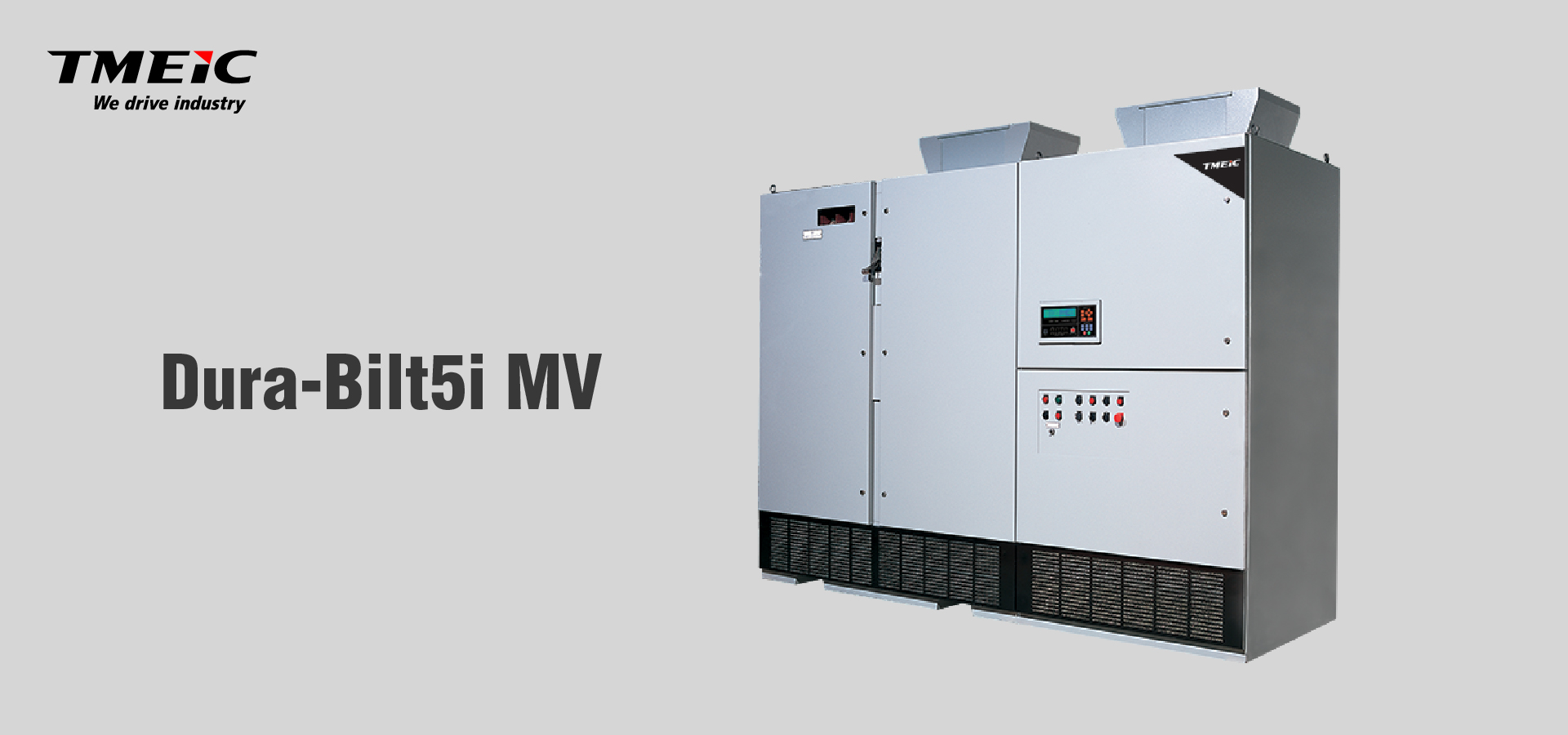 TMEIC Dura-Bilt5i Medium Voltage VFD
Up to 4160 VAC, 10,000 HP
The\n Dura-Bilt5i MV series of medium-voltage AC-fed drives delivers reliable\n operation in a robust and compact design, providing a cost-effective \nsolution for a broad range of applications. The Dura-Bilt5i MV delivers \nvalue through low cost of ownership and high reliability.
Applications
The versatile Dura-Bilt5i MV drive can be used in a wide variety of non-regenerative applications, including:
Fans and other high inertia variable torque loads
High starting torque loads such as cement kilns, extruders, and mixers
Conveyors
Pipeline and process compressors
Pumps of all sorts
Motor starting with synchronizing to the utility
The\n Dura-Bilt5i MV is a fully digital voltage source Pulse Width Modulated \n(PWM) Medium-Voltage (MV) drive with a compact and compartmentalized \nair-cooled design to optimize equipment segregation, cooling, and \nmaintenance.
Power Levels & Motors
The DB5i is compatible with new or existing induction or synchronous motors from 200 to 10,000 HP, and from 2300 to 4160 volts.
Packaging
Only front equipment access is needed, simplifying installation.
Innovative\n but proven heat-pipe cooling in larger frame sizes provides \nwater-cooled performance with air-cooled simplicity, from 0 to 40 C, 50 C\n with derating.
An integral incoming fused disconnect can be included without increasing the footprint.
A\n cool-operating copper-wound drive isolation transformer is included \nwithin the compact enclosure. Multiple windings provide harmonic \ncancellation.
Power System and Motor Friendly
The\n drive AC to DC converter uses a 24-pulse diode rectifier, giving \npower-system-friendly operation that is better than IEEE 519 harmonic \nguidelines.
Interfaces and Controls
Uses the TMEIC family common control platform, including PP7 microprocessor, control I/O, and the TMEIC TMdrive-Navigator
The\n Dura-Bilt5i MV\'s advanced user interface, and system features provide \nfast startups, easy monitoring of operation, and close match of drive to\n application.
Series Designations
The Dura-Bilt5i MV product has a series designation appropriate for the outgoing motor voltage:
2000 Series: 2000-2400 V ac, 200-3000 HP
4000 Series: 4000-4200 V ac, 400-7000 HP
A dual bank drive for 4000 series provides up to 10,000 HP
Reviews