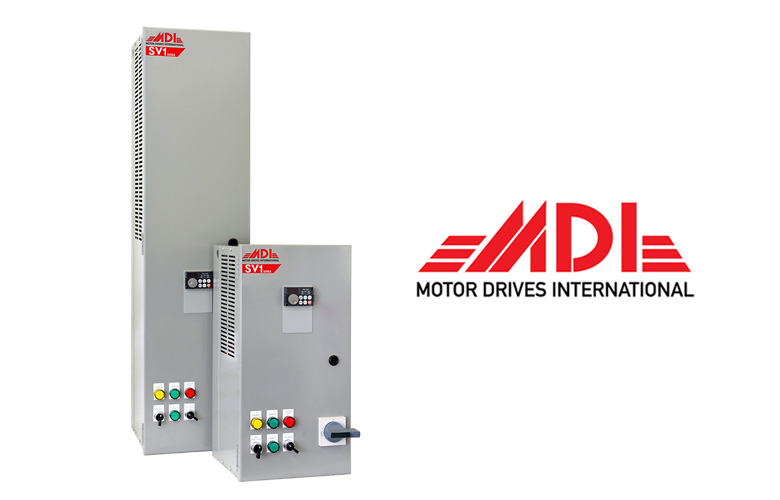 What is an SV1
The intelligent design of the MDI (Motor Drives International) enclosed drive panels, including the SV1 system, have been engineered with you and your toughest electrical applications in mind giving you the peace of mind you need from your control panel.
The SV1 control panel, designed to be only 12" wide, is the slimmest standard enclosed VFD panel available in the MDI family. With a durable Mitsubishi variable frequency drive circuit breaker, and options for many control protocols, the SV1 is a smart choice for HVAC or pumping applications.
The SV1 features include a full function keypad, remote I/O capability, operator devices, and pad-lockable through door circuit breaker disconnect handle. Optional add-ons include 3% or 5% line reactors, three contactor bypass, advance numeric keypad, and many more.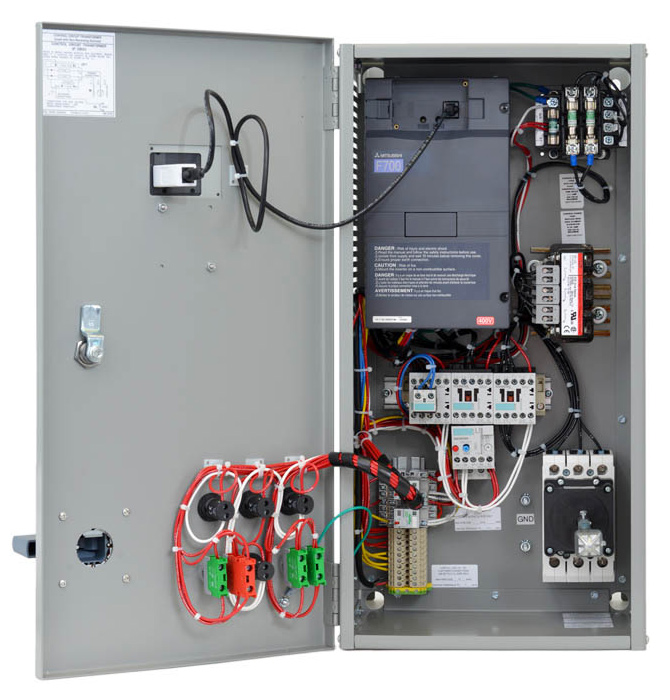 Inside view of the small SV1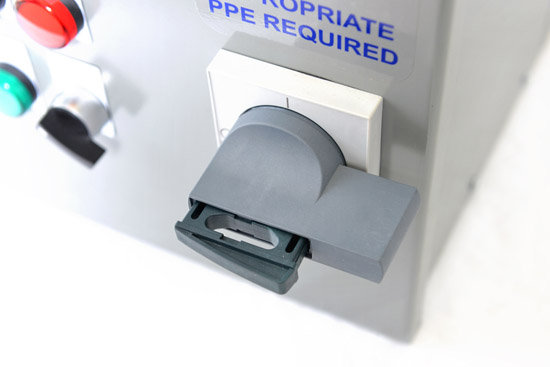 Pad-lockable door handle - circuit breaker disconnect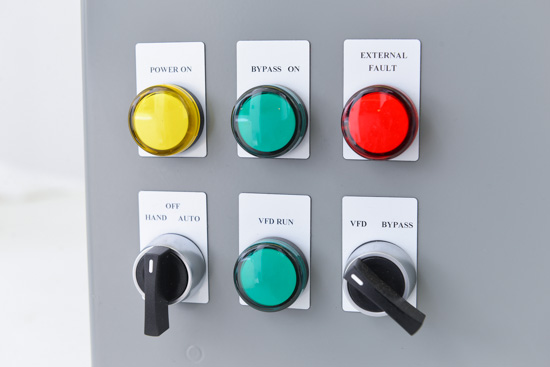 LED lights outside the panel door to show the real-time status of the system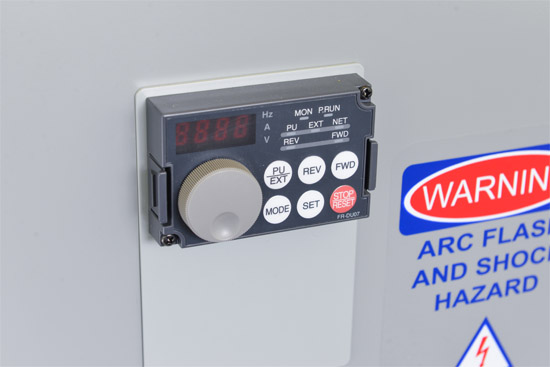 Mitsubishi standard control keypad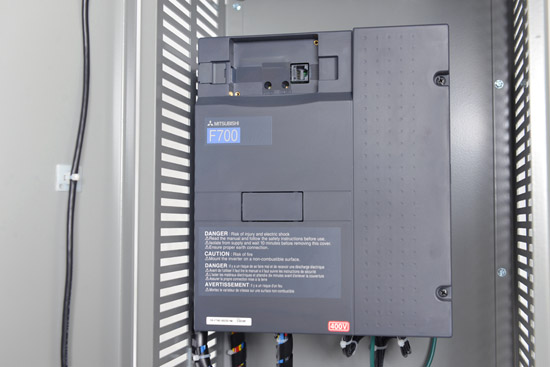 Mitsubishi F series VFD is the standard equipment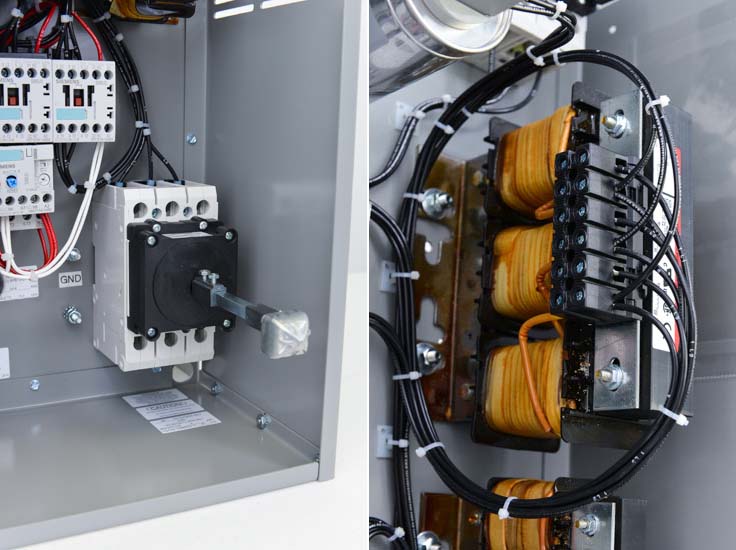 Left: Circuit breaker disconnect / Right: 5% Line reactor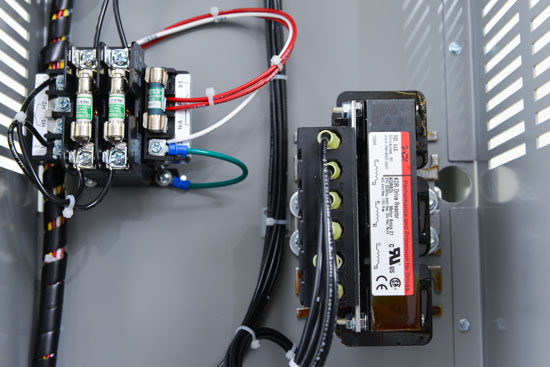 Left: Control Transformer / Right: 5% Line reactor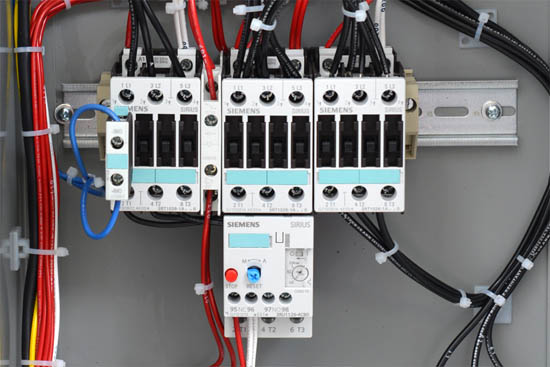 Three contactor bypass
Features:
12" wide NEMA 1 ventilated enclosure
All components housed in one single enclosure, no additional wiring or boxes
Easy installation
3 lines in & 3 lines out
UL508A listed
Remote I/O capability
Two optional cards can be installed simultaneously
Soft PWM for peak voltage mitigation at motor terminals and quiet operation
Full function keypad - operate the VFD without opening the panel
3% (standard) or 5% (optional) line reactors available to reduce power surges and electrical noise up to 65%
Three contactor bypass (optional) electrically and mechanically interlocked, allows the motor to run across the line in case of a VFD failure
Door-interlocked input circuit breaker disconnect - provides additional safety by powering down the equipment before opening the panel and allowing OHSA lockout
Embossed numbering system - each wire is uniquely identified for ease of troubleshooting
22mm door operator switches - power on and off and make adjustments without opening the panel
Specifications:
Available from 0.5HP to 40HP, at 230V or 460V
Frequency: 50 or 60Hz
Overload rating: 110% for 60 seconds, 120% for 3 seconds (additional overload ratings optional)
Standard equipment: Mitsubishi F700 series VFD (other options available)
Standard ambient operating temperature: 40°C
1 year standard warranty (extended warranties optional)
Shop our SV1 series VFD control panel inventory now!

Also check out the other two VFD control panel series:
FF1 Series - Pump and Fan VFD Control Panels
Comments