Custom Manufactured VFD Control Panels
Custom manufactured Variable Frequency Drive panel build-ups are available through our in-house, UL508A certified, custom manufacturing and systems integration division. Enhanced power quality filters and protection systems are custom designed and manufactured by our engineers and certified panel assemblers to meet project requirements. If you're looking to buy a custom VFD or need a Motor Control System designed for a specific application, we have the capabilities to both design and manufacture a VFD system for virtually any application. Our custom systems range in size from a single pump panel to multi-panel build-ups for large industrial applications that integrate various VFD components and accessories including switchgear, harmonic filters, PLCs, TVSS, or any other type of required components. With our systems integration & automation services, we also provide VFD system support, including trained start-up technicians, VFD system design engineers, and warranty & scheduled maintenance programs.
Standard Features and Specifications:
UL 508A Tested and Certified
Over 95% System Efficiency
Operation in up to 95% Relative Humidity
Over a 95% Power Factor Rating
Standard NEMA 1 Force Filtered Intake Ventilation Plenum
Door Interlocked Input Circuit Breaker Disconnect
Full Load Capability up to 5,000 ft. in Elevation
120V Control Power Transformer with Primary and Secondary Fusing
Operating Temperature -10° to 40° C
Operator Device Panel with Advanced Keypad and Heavy Duty 22mm 100,000 Hour Pilot Lights
Hot Emboss Stamped Wire Marking
Optional VFD System Features:
Bypass Contractor Arrangement
VFD Isolation Contactor / Switch
AC & DC Line Reactors
Integrated Pure Power II Harmonic Filter
Output dv/dt Filter
PLC or Custom System Control Package
10 or 20 Yr. Warranty TVSS Package
NEMA 3R & Various Other Enclosure & Configuration Options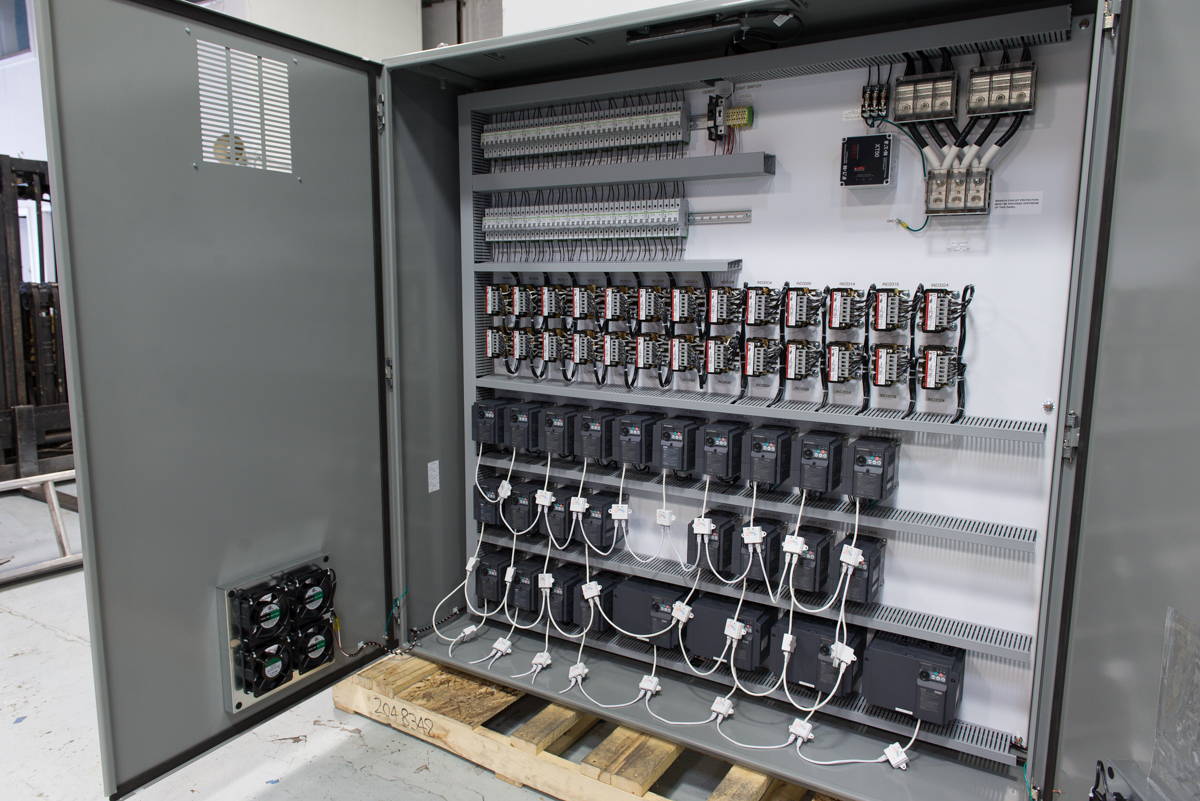 Waste Water Treatment Plant VFD Panel
A metropolitan city municipal in Utah has been a repeated customer of VFDs.com's MDI panels. This custom panel utilities different sizes of VFD for an entire sub-station, all controlled by an on-site PLC.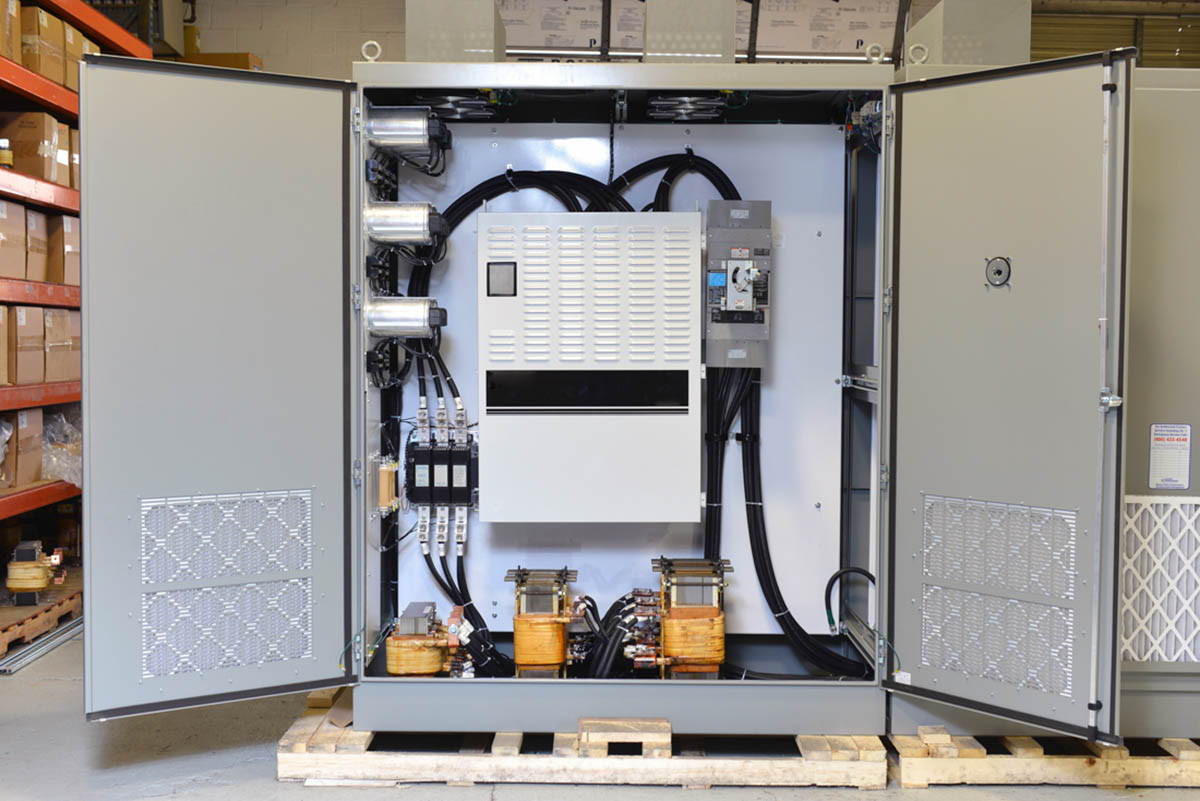 700 HP VFD Panel with Active Front End Unit (AFE)
A custom engineered solution used on a 2-mile long conveyor belt at a rock mining site. The integration of VFDs prevented the mining site from permanently shut down. Before the use of VFDs, the site was utilizing dump trucks to move rocks between a 2-mile stretch. By automating the site, the company was able to reduce operating cost by over $2 million per year and become sustainable.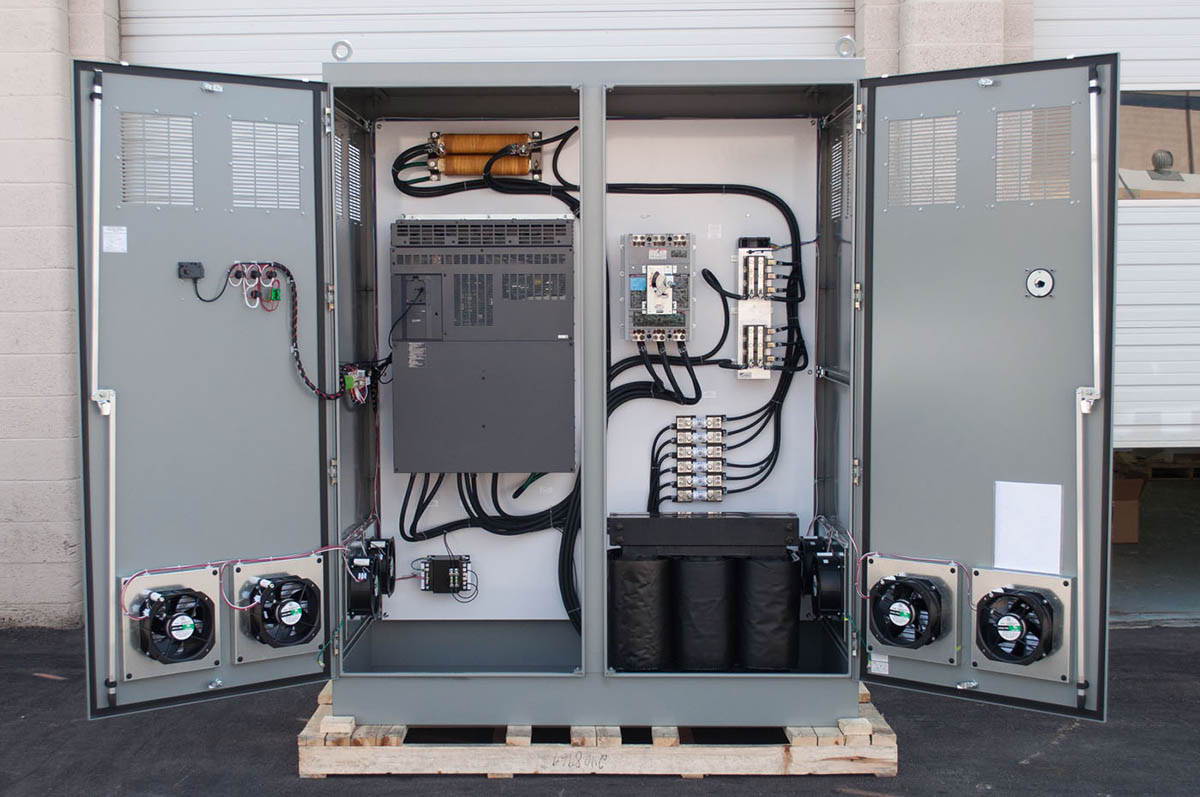 700 HP NEMA 4 Panel for a water pump station. Using the competitive Galt Electric 860 Amp VFD.
For more information or to talk with one of our system engineers, give us a call or email us.